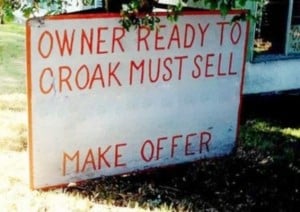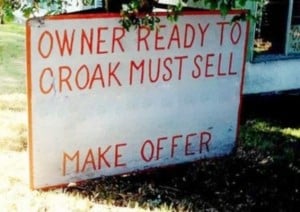 I have recently been working with several UK-based Estate Agents. It is interesting to hear how their businesses have had to adapt to the growth of websites such as Zoopla and RightMove.
Where they may have previously put considerable effort into advertising their properties, most buyer enquiries are now referred via one of the afore-mentioned property websites. In addition, properties in London and the South-East have seen something of a sellers' market with several prospective buyers chasing the small number of decent properties that become available.
Apparently, this means that in order to attract buyers there is little real need to have a high street office. The primary reason an estate agency now maintains a local office is to attract clients who are selling a property who often have a preference for a local agent with a presence on the high street. Most of the marketing effort of residential estate agencies is therefore now mainly focused on attracting new vendors. This presumably explains why I am constantly drowning in a sea of glossy leaflets, posted through my door, persuading me to sell my property.
Smarter Search Marketing
When estate agents consider Search Marketing for their website they tend to gravitate towards the most obvious search terms such as 'estate agents in Clapham" or "letting agents in Hampstead". These keywords are not only likely to be highly-competitive but also give no real indication whether the user is looking to buy or sell a property.  As with all forms of marketing, it is essential to understand who you are targeting and consider their specific needs and problems they want to solve.
I suggest that residential agents carry out some basic research on past clients for whom they have previously sold a property. Try to establish what life events prompted the sale and – if they were moving outside of the area – what location they moved to. We can then list these vendors by their reason for selling and the area to which they moved.
For example:
Change of child's school

Change of job

Death of a relative

Selling an investment property

Moving out of town

Moving into town

Starting a family

Expecting a baby

Getting divorced

Moving upmarket

Moving downmarket

Moving to another London borough

To be closer to family

Retirement

Downsizing (cashing in equity)

Health problems
Once we have established their reason for selling, we can then think about what specific questions or advice they needed prior to contacting an agent.
Let's take as an example, some people who sold their home in order to move to another London borough. Long before they ever contacted an estate agent, they will have almost certainly researched information about the areas to which they were considering the move. If, for example, you have identified that several clients sold their property to move to an area such as Islington in North London, you could then create some helpful content to assist future potential clients with their preliminary research.
For example,
what are the best nurseries in Islington?

what tube zone is Islington?

what is the best primary school in Islington?

what are the parking restrictions in Islington?

what is the best secondary school in Islington?

what is the crime rate in Islington?

what are the best private schools in Islington

what is the council tax rate in Islington?

which party runs Islington council?

which tube lines run through Islington?

where can you park in Islington?

where are the best restaurants in Islington?

where is the council housing in Islington?

where to go out in Islington?

where to eat in Angel?

what shops are in Islington?
Remember, this strategy is designed to target those people considering moving out of the area in which your office is based and into another London borough.  We could of course scale this content to several other locations that we have identified as areas to which prospective vendors might wish to relocate.
These questions then form the titles, headings and content of the blog posts on your website. Each post carefully optimised to achieve maximum visibility on Google for anyone performing a search on these topics. This will result in prospective vendors finding your website at the earliest stage of their research. They will then read your helpful content and be subtly reminded of your agency's expertise and professionalism.
Getting Local Businesses to Promote your Posts
Once you have created a helpful post along the lines of  "Which are the best schools in Islington?", why not contact the schools you listed in the post via their Twitter profile?
Send them a tweet with a link to the article on your website. If you said something positive about their school there is every chance that they will re-tweet and share your post with their own followers thus generating even more awareness about your agency among the exact target demographic that you are trying to reach.
Dull Agency Blogs
Just think what an improvement this type of content would be over the blog posts of a typical estate agent's website. Take a look at this example below from the Foxton's website informing visitors about new artwork on their office walls.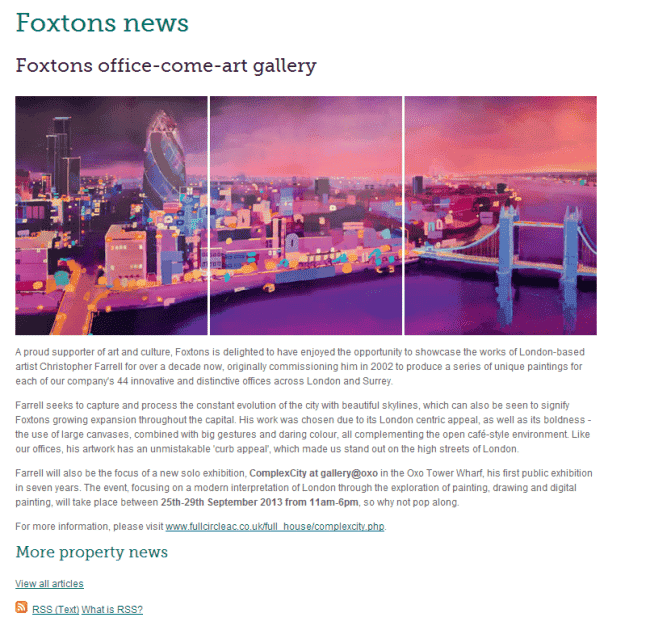 Or this example from Hamptons discussing a new Spanish partnership: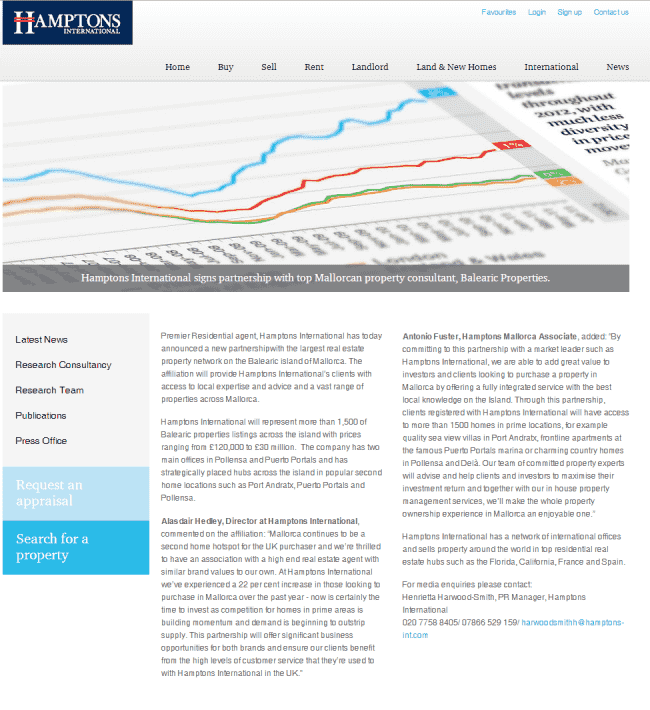 Do these agencies believe that people actually want to read this type of content? I don't mean to single out Foxtons or Hamptons; their blog content is pretty typical of the kind of self-referential, self-congratulatory and tedious copy posted on the majority of estate agents' blogs.
Being Genuinely Helpful
If you want to try out this strategy yourself, please resist the urge to overly-promote your agency. Nobody wants to read advertising dressed up as editorial content. Be genuinely helpful. Provide an authentic, well-written resource that addresses the visitors query in clear, simple layman's English. Do however include an appealing Call to Action from your blog posts to another page on the site telling them more about your agency. Allow the reader come to their own conclusion that you are an agency worth talking to when the time comes to sell their property.
When your blog is full of genuinely helpful and informative content you might then have something actually worth Tweeting about and sharing on your agency's Facebook page. Who knows, your followers may even consider your content worth sharing among their own social networks?
Look at these dreary examples below from Anscombe & Ringland's Twitter feed. Who in their right mind would want to share any of these tweets with their own social network?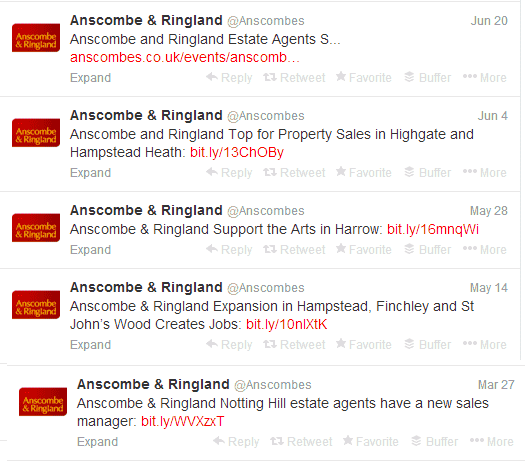 I can't claim to be any kind of expert on how to run an estate agency, but I do know that the property market is less to do with property than it is to do with people. Successful online marketing involves taking a step outside of your industry bubble. As prospective clients we are not very interested in the property market. We are however very interested in our lives and our homes. Use your experience and knowledge to help us in these areas and the vendor enquiries are bound to come flooding in.
If you would like to hear more thoughts about online marketing, please follow me on Twitter Follow @DannyRichman
If you would like to learn how to get more clients using search marketing, I offer a private training course designed just for your business.
https://www.seotraininglondon.org/wp-content/uploads/2014/01/vendor-sign.jpg
212
300
Danny Richman
/wp-content/uploads/2016/08/SEO-Richman-Logo.png
Danny Richman
2014-10-01 10:16:37
2017-02-17 13:03:51
How Estate Agents can Increase Vendor Enquiries