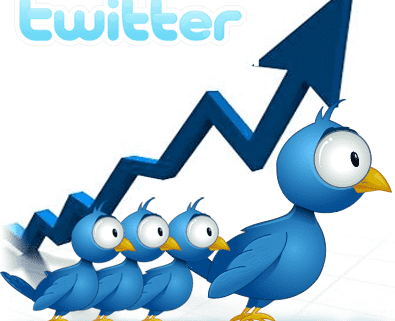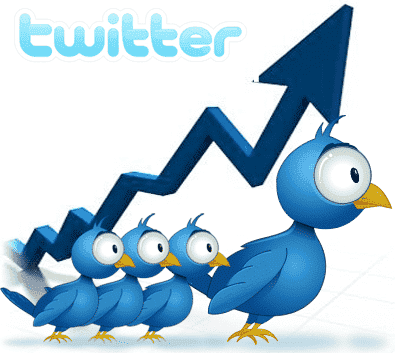 I have recently been experimenting using promoted tweets to test whether they could be an effective marketing tool to recommend to my clients. This post explains how, in the space of just 7 weeks, using promoted tweets I increased my Twitter followers by 550%, improved my website's ranking on Google and gained several new clients.
What are Promoted Tweets?
Twitter recently opened up their UK advertising programme to provide small to medium-sized businesses with a self-service method of increasing the visibility of tweets beyond the reach of their existing followers.
When you set-up a new promoted tweet campaign you first specify which type of Twitter users you wish to reach. You can target users based on either the keywords they use in their tweets or on their similarity to the followers of other Twitter users. If say, you want your promoted tweet to reach professional lawyers; you can specify users who frequently use keywords such as "family law" or based on their similarity to the followers of @TheLawSociety or other similar organisations. You can even target users similar to those of your competitors.
One of the key features of the service is that you pay a fee only upon engagement. An engagement occurs when someone clicks on your link, retweets your tweets or follows you. You specify the maximum amount you are prepared to pay for each engagement.
Twitter will then determine how many people get to see your promoted tweet based on three factors:-
Resonance: are users engaging with your Tweet?  Do they retweet, favourite, or reply often?

Relevance: is your Tweet related to subjects the user is interested in?

Recency: is your Tweet fresh? Twitter is a real-time platform about what is happening now, so fresher tweets get higher priority.
 What kind of tweets should I promote?
Twitter users have become used to the idea that their timeline will contain tweets or retweets from users they have personally chosen to follow. For the most part, their expectation is that tweets will not be overly-promotional or attempt to directly sell a product or service. This is equally true for promoted tweets as for organic tweets. Many small to medium-sized businesses fail to grasp this concept. 
Take a look at this example below. JP Carpentry are highly unlikely to gain a significant following or motivate users to share their content by tweeting these unimaginative, promotional messages.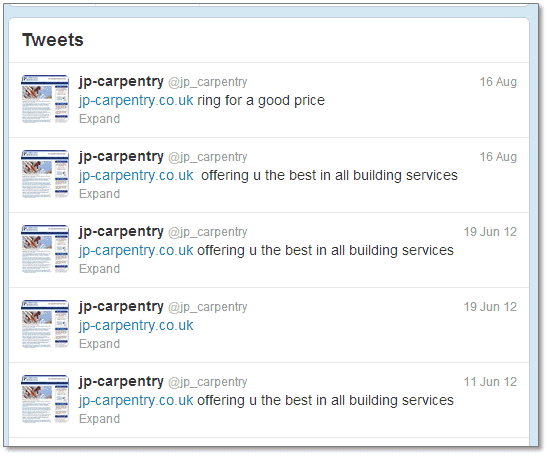 For a promoted tweet to be effective it should be viewed in the same way as a non-promoted tweet. It should be just as relevant and informative and ideally include a link back to engaging content on your website. A promoted tweet that is engaging and relevant will get more 'bang for your buck' and be shown to more Twitter users at a lower cost.
A promoted tweet such as this one below from 'Benson for Beds' is likely to attract complaints of spamming from those Twitter users who see it in their timeline. Bensons will not have been able to target only those users who are in the market for a new bed. It is highly unlikely that many people would want to click or share this tweet with their own followers.

My own experience
I have been using Twitter since August 2012. I use it primarily as a tool to follow other Twitter users and to keep abreast of news and developments in my industry. I rarely tweet, and when I do, it is mostly as a direct message to some other user. I made little effort to encourage others to follow me and gave them no real reason to do so. As a result, my Twitter following hovered around 150 users until as recently as November 2013.
Following my recent consultancy work with several professional accountancy firms, I wrote a blog post, 'Why Most Accountants' Websites Stink'. The post was written to offer advice to accountants and suggest ways in which they could improve their websites. At that time, the number of accountants following me on Twitter could be counted on the fingers of one hand. I was therefore interested to see whether promoted tweets could be an effective way to get my blog post read and shared by more people.
I created a promoted tweet (as shown below) with a link back to the blog post on my website.

I targeted Twitter users who use keywords such as 'CPA', 'accountant' and 'wealth management' etc. I also targeted the followers of other Twitter users e.g. 'Accountancy Age' magazine and the Association of Chartered Certified Accountants (ACCA). There is also an option to target users by gender, location and device.
Although Twitter suggested a bid of between 95p and £1.35, I entered a maximum bid of just 4p per engagement to see what effect this would have on my campaign. I set the campaign to run immediately and then went off to a client meeting which was expected to last for 3-4 hours.
My Twitter account is configured to send an SMS alert to my phone whenever another user follows me or retweets one of my messages. Throughout the meeting my phone was permanently vibrating in my pocket which proved to be something of a distraction as you can imagine! I assumed that this activity would eventually tail off but by the time I went to bed that evening, I had to switch my phone off completely to stand any chance of getting any sleep. This activity did not tail off at all and my phone continues to vibrate regularly throughout the day.
The results
Here are the stats for my promoted tweet for accountants from Nov 15 2013 to Jan 3 2014 (a total of 7 weeks which included the Christmas and New Year holidays)
The tweet was viewed by 185,000 twitter users.

21,000 users clicked on the link to read my blog post

75 users retweeted the tweet and shared it with their followers

The tweet resulted in 175 new Twitter followers.

The post was was shared by users on Twitter, Facebook, Google+ and LinkedIn

The average engagement rate for the campaign was 11.5%

The average cost was 2p per engagement at a total cost of £425.00
These figures only tell part of the story. Twitter do not charge for any engagements that are 'earned'. In other words, if a user retweets my promoted tweet to their followers and then their followers retweet it again or decide to follow me; I only pay a fee for the original engagement. Any engagement earned as a result of any viral activity beyond the scope of the original promoted tweet achieves further publicity at no extra cost.
I was so impressed with the results of the campaign that I decided to repeat the process and promote similar posts tailoring each one to be relevant and informative to the industry being targeted.
I have now been using promoted tweets for just 7 weeks. This includes the period over the Christmas and New Year holidays during which time many Twitter users are less active. The overall results are as follows:-
My Twitter following has increased to 836 followers; an increase of 550%.

I have gained 300 new links to my website from other quality domains (still the most important ranking factor on Google)

I have seen an eight-fold increase in the average volume of monthly traffic to my website

I have gained over 40 new sales enquiries from clients who read my blog posts

I have received direct messages from over 100 Twitter users expressing their appreciation for the content I promoted. 

Some of those new followers have referred me to new clients or become collaborators.



My campaign was primarily intended as an experiment to see whether promoted tweets would be a useful tool for my clients. I have now significantly reduced my promoted activity on Twitter as, due to other commitments, I can't really accommodate the extra work it generates.
It is also worth remembering that the benefits of this campaign extend far beyond the period in which my tweets were promoted. I now have a Twitter following that increases by an average of 15-20 new followers per day at no additional cost. When I promote new blog posts I now have a much larger pool of followers to read my posts, share my content and link to my website. This all happens without any additional financial investment.  I personally still follow only 106 other Twitter users. The amount of time I spend tweeting has not increased a jot.
What are the downsides?
Very few. The old adage that 'you can't please all of the people all of the time' does however hold true. After my tweets were viewed by over 1.2 million Twitter users with nothing but positive reactions, I received the following message from a housing lawyer, Giles Peaker, who expressed his annoyance that I had "targeted him" using a promoted tweet.

I wonder if Giles complains to Coca Cola about their TV ads when he sits down to watch his favourite episode of Judge Judy? 
Some Twitter users will need time to get used to the idea that a service, for which they pay absolutely nothing, must find some way of generating income. Perhaps one day they will appreciate the fact that Twitter is at least incentivising advertisers to make their promoted tweets relevant and engaging . Giles should be thankful that I wasn't trying to sell him tampons!  🙂
Take-aways
As with all forms of marketing, test your campaign first with a small budget to see what sort of response you get. If your engagement rate is poor you may need to re-evaluate the content you are promoting or the users you are targeting.

Don't use promoted tweets to directly promote a product or service unless the product or service is unique and newsworthy in itself.

Do not just accept Twitter's suggested bids. Improve the relevancy, targeting and quality of your tweets to achieve better results without increasing costs.

Be clear about your end goals and make sure that your campaign is helping you to achieve them.

Monitor your campaign at least once a day and tweak it as you learn from your experience.

Accept the fact that some people may object to your promoted tweets. Unless they represent more than a handful of your targeted users, my advice is to just ignore them. Don't make my stupid error of engaging with them.

Twitter has its fair share of the weird, naive and ignorant among its users. Accept the fact that you will be tweeting out to a large number of Twitter users all of whom have the means to contact you. Again, the best thing to do is just ignore them; as they should you.

It is highly likely that as more brands start using promoted tweets the costs will increase. If you do plan to test your own campaign, it may be worth starting sooner rather than later.
Do let me know how you get on.  I would love to hear about your experiences. If you have any questions, please leave a comment below.


If you would like to hear more thoughts about online marketing, please follow me on Twitter
Follow @DannyRichman

https://www.seotraininglondon.org/wp-content/uploads/2014/01/tweets.png
353
395
Danny Richman
/wp-content/uploads/2016/08/SEO-Richman-Logo.png
Danny Richman
2014-01-05 15:55:23
2016-09-15 10:34:19
How I Increased my Twitter Followers 550% in 7 weeks with Promoted Tweets