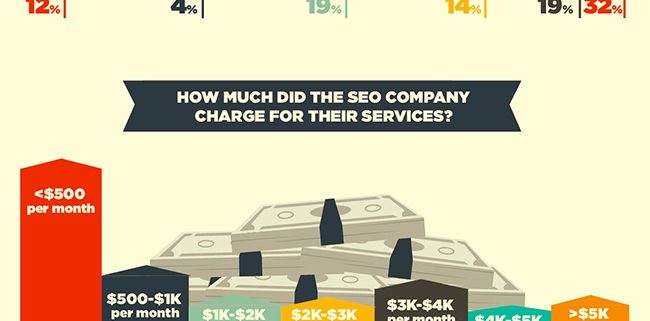 Many of the clients that attend my SEO training courses have had a bad experience with the SEO agencies they previously hired to improve their visibility on Google.
I surveyed 1,000 business owners (with fewer than 100 employees) who used an external SEO agency to see how they felt about the service they had received.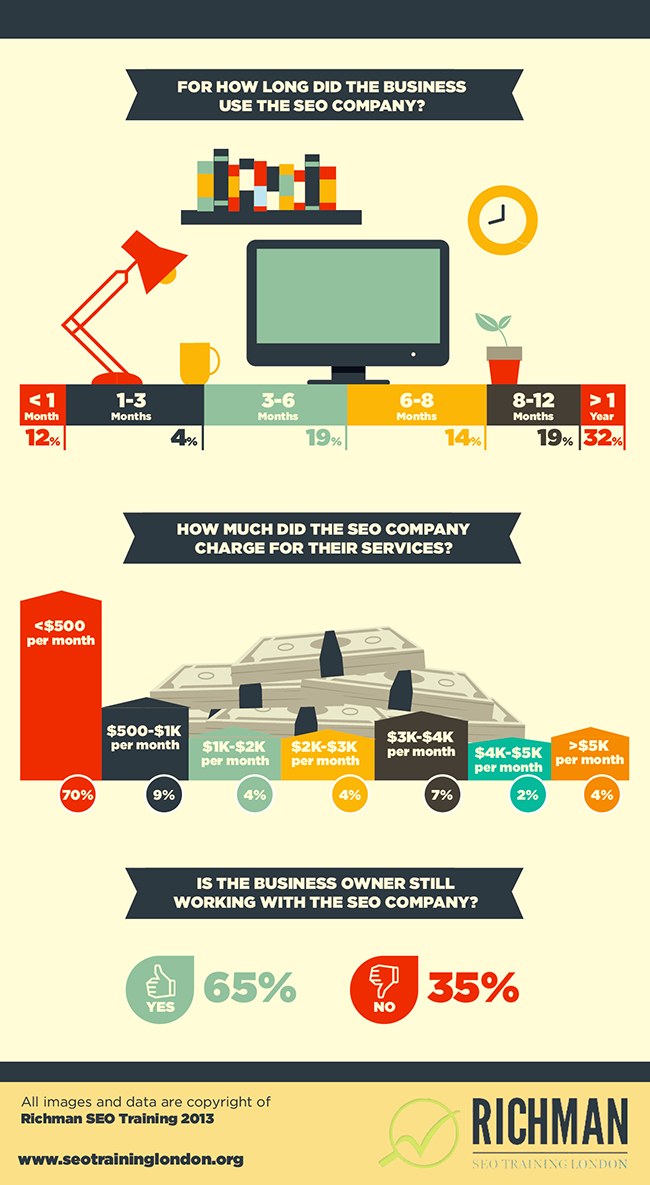 Danny's thoughts:
Effective SEO is a task that requires time, creativity and expertise. Paying less than $500 (£310) per month is highly likely to expose you to agencies that have none of these attributes. Cheap SEO will attract poor-quality link-builders whose activities leave your business vulnerable to being penalised by Google.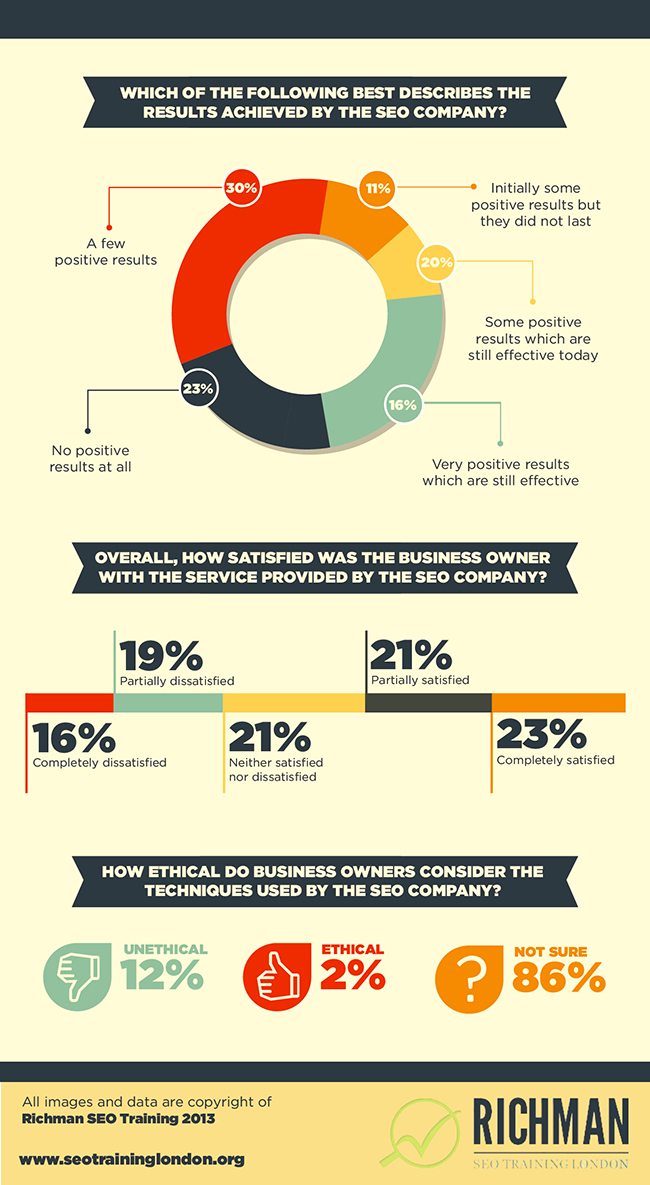 Danny's thoughts:
34% of business owners using an SEO agency saw no lasting positive results. An even more disturbing 86% of business owners had no idea whether or not the practises used by the SEO agency were ethical. With such a disturbing lack of awareness it is little surprise that so many businesses have received such poor service.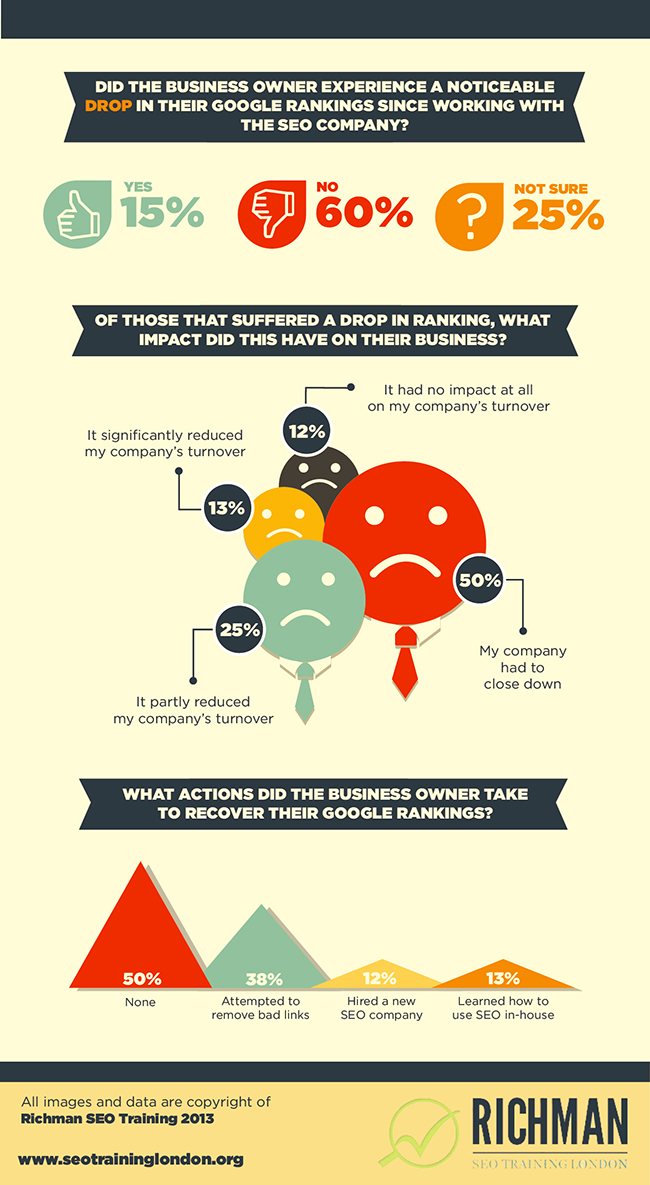 Danny's thoughts:
It is deeply upsetting to see that 15% of small businesses have been negatively impacted by the service they received from their SEO company and – of those – 50% were forced to close down their business entirely!
I have personally met several business owners who took on staff, stock and larger premises to fulfil the extra business gained as a result of their prominent Google ranking. Once their site got hit by Google's quality updates, the orders volumes stopped and the increased overheads left them in financial ruin; the tragic victims of an unscrupulous SEO provider and their own naivety. It also serves as a sharp reminder never to rely on a single sales channel for attracting new clients.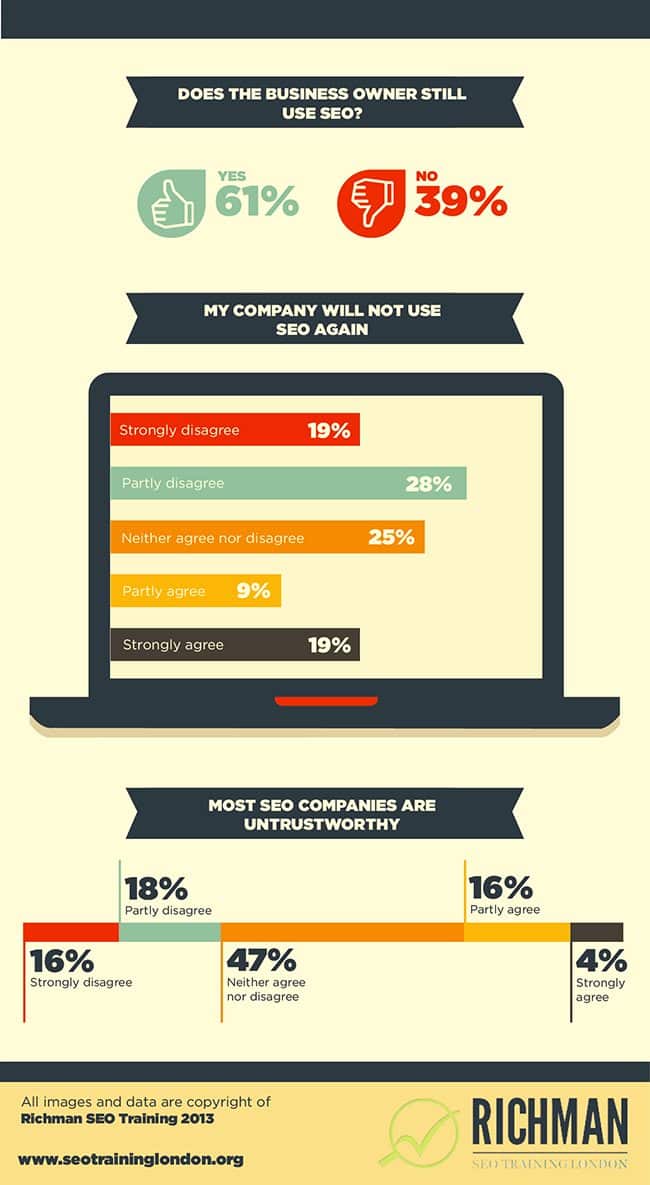 Danny's thoughts:
How sad to see that 20% of business owners consider most SEO companies to be untrustworthy. This only highlights the need for business owners to educate themselves on how SEO can be correctly used to promote their business or have an SEO Audit performed on their website.
Unfortunately, 28% of business owners state that they will never use SEO again as a result of their previous experience. This is understandable, but extremely short-sighted as 95% of online shoppers will use a search engine before making a purchase. 
The reason that SEO didn't work out for most of these business is largely due to a lack of education and due diligence. In fact, SEO and Content Marketing can be one of the most cost-effective and efficient methods of reaching out to new clients.  
I am a firm believer that – for most small businesses – the best people to apply SEO are those working inside the company, who understand the products and the target market they wish to reach.
If you found this post useful, you may also be interested to see my survey on "How do the Public Perceive SEO?" and "How do Business Owners Perceive SEO?".
If you would like to hear more thoughts about online marketing, please follow me on Twitter Follow @DannyRichman
If you wish to embed any of the infographics on this page on your own website, be sure to cite www.seotraininglondon.org as the source and provide a link back to this site.
https://www.seotraininglondon.org/wp-content/uploads/2013/11/SEO-Survey-Infographic_final-01.jpg
1185
650
Danny Richman
/wp-content/uploads/2016/08/SEO-Richman-Logo.png
Danny Richman
2013-11-26 07:31:42
2016-09-15 10:34:19
How Bad SEO is Killing Small Businesses