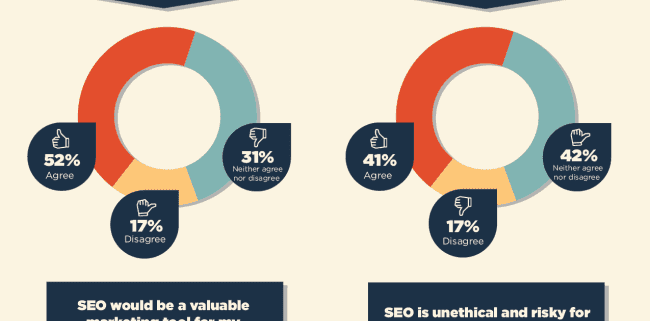 This data was collected in conjunction with CINT from 500 UK business owners (with fewer than 100 employees) to find out what they understand and feel about SEO training and search marketing. I hope you find the results useful and informative.

---
This infographic is a sequel to our 'What do the Public Understand about Search' infographic.
I was interested to see that only 8% of business owners claimed to have anything more than a basic understanding of SEO and that 40% had never heard of SEO at all. Clearly, much more work needs to be done in raising awareness for the potential of search marketing among SME owners.
I was also interested to see which factors business owners believed affected their Google ranking.  Ironically, business owners who claimed to have a good understanding of SEO were, in fact, even wider off the mark than those who relied on pure instinct. A staggering 78% of business owners who claim to understand SEO believed that "the number of visitors that their site receives" is the most significant factor affecting their Google ranking. Those businesses would undoubtedly benefit from an SEO Audit Service for their website.
While around 50% of business owners could see the value in search marketing for their business, the main issues deterring them from using it are costs and an uncertainty as to whether it would deliver the desired results.
For those business owners who would consider hiring an external SEO marketing agency, the most important criteria were (perhaps unsurprisingly) their fees and the past track record of the agency. However, a third of all surveyed said that the Google ranking of the agency's own website was also a key factor in their decision.
There was an almost entirely negative attitude towards paid online advertising with only 2% of business owners finding it successful while 36% of those who had tried it, found it to be unsuccessful. I suspect that this may be largely due to a lack of knowledge in how to use online advertising correctly. I personally see many small business owners who trial an Adwords campaign only to discover that visitors fail to convert and costs quickly escalate. They then stop the campaign in a panic and dismiss online advertising as a valueless tool. Often the reasons for the failure of the campaign was actually due to external factors such as a poorly designed website or poor Adwords campaign configuration.
I may run this survey again in 12 months' time to see whether attitudes and awareness changes as digital marketing becomes more widely understood.
Download this infographic.
https://www.seotraininglondon.org/wp-content/uploads/2013/10/Business_SEO_Comp.png
5039
650
Danny Richman
/wp-content/uploads/2016/08/SEO-Richman-Logo.png
Danny Richman
2013-10-29 16:00:41
2017-05-02 16:11:00
How do Small Business Owners Perceive SEO?