In the world of Local SEO, there has been a long-standing recommendation promoting the benefits of getting your business listed in multiple online directories.
Having your business' name, address and phone number (also known as NAP) consistently listed across a wide range of online directories is claimed to improve a site's organic ranking on Google. This claim is then used to sell directory listings, citation tools and services to local business owners at a significant cost. This article aims to debunk this common myth.
How did this myth get started?
It is noticeable that most of the SEO professionals and organisations who make this claim are those who stand to financially benefit by doing so.
Let's look at a few notable examples…
Yell.com
The Yell.com website states, "One point about citations is that they still have SEO value even if there is no link to your website. A citation with a link is better than one without, sure, but search engines give an online business credit for the number of citations it receives from different sources online."
Yell's sales agents inform small business owners, "The more directories in which you are registered, the higher you will appear in Google's search results. This is a fact."
When Yell's agent was asked to provide evidence to support this claim, they were unable to do so.
Whitespark.ca
Until very recently, the Whitespark website claimed as follows, "Citations are a key factor in local search rankings. Experts agree that citations account for 25% of all local ranking factors"

I asked Darren Shaw (Whitespark's founder), to provide the evidence behind this claim. He replied, "That's old and outdated [information] from a previous version of the Moz local search ranking factors survey. We need to update this."
The study to which Shaw refers is a Moz Survey of SEO consultants who were asked, "In your opinion, to what extent do each of the following thematic clusters contribute to rankings across result types at Google?". Only 10.82% of the consultants surveyed felt that "Citation Signals" contribute to organic rankings.
Regardless of when the survey was published or which opinion the SEO consultants held, why would any reputable company make factual claims on the basis of an opinion-based survey?
BrightLocal.com
The BrightLocal website claims, "NAP consistency is one of the core components of attaining high-profile local search visibility."
I queried this statement with BrightLocal's Rosie Murphy (Research & Content Manager). Murphy replied, "I'd expect you're already familiar with the Moz Local Search Ranking Factors study, where many of the leading local SEO experts rate the tactics that they see help improve local rankings the most through their own experience and testing."
 Once again, we find factual claims being made from the same outdated, opinion-based survey from Moz.
Moz Local
Moz, the publishers of this much-cited survey, claim, "Structured citation opportunities provide a relatively low-time, high-reward backlink opportunity for businesses."
This suggests Moz consider backlinks from these directories to have a positive impact on rankings. Yet another claim being made without the evidence to back it up.
Vested interests
The common factor among all of the companies quoted above is that they sell paid services which offer to create and maintain directory citations and listings. They are presenting these claims as facts, not mere opinions.
Now let's hear from some experts 
What do Local SEO experts with no financial incentive in perpetuating this myth have to say?
John Mueller (Webmaster Trends Analyst at Google)
"Just because a company name is mentioned somewhere doesn't necessarily mean it's good or bad for the company. I'd see those mentions more as advertising — if you think people are going to see it and explicitly search out your business, then that's great." – John Mueller
"David Mihn and I created the concept of NAP consistency in 2006. These days, NAP consistency is total horseshit! All of these apps such as Moz Local and every digital agency that monetises NAP consistency has a vested interest in doing so. 
The original idea behind these citations was to get your business listed in a local directory. At the time, local directories had a lot more presence, so some of these pages were valuable in the sense that the listing page had its own prominence.
Over time, those directories lost their value. Most of those directories are now completely useless.
Even the top 20 directories are not necessarily useful. When a business is listed in a directory such as Yellow Pages, those pages largely have zero prominence and transfer no value to the business in Google's eyes."
Greg Gifford – Local SEO expert and international speaker 
"Maybe 5 or 6 years ago, but now, NAP consistency has no bearing on organic results. Links from directories were never important to organic ranking."
What does the data show?
I carried out my own study of 5,065 small business websites, all of which met the following criteria:
Had multiple links and citations from online directories submitted via a paid citation service.
Included keywords in the title tag of the home page
Had at least 50 words of text on the home page
According to Ahrefs, the average volume of monthly organic Google traffic across all 5,065 sites was a mere 2.17 visits. Some of these sites were listed in more than 500 directories.
A similar sample of 6,939 websites with no directory submissions (but meeting all of the other criteria) shows a similar level of organic Google traffic.
The correlation between organic traffic and the number of directories in which a site appears is 0.126. For non-statisticians, this means there is no meaningful link between directory listings and a site's organic visibility. This applies equally regardless of whether the directory listing contains a link to the target site. 
Directory Prominence
Most of these directories are struggling to improve their own visibility on Google.
Shown below are several directories to which companies such as Yell.com will happily submit your site at a cost of £720 per year. 
Each chart shows the directory's average monthly volume of organic UK Google traffic. As you can see, most have suffered significant losses or were never receiving much organic traffic in the first place. This is a clear indication of the degree to which Google values these directories. If a directory publisher is unable to even get their own site ranking on Google, why would any legitimate business claim they could help yours?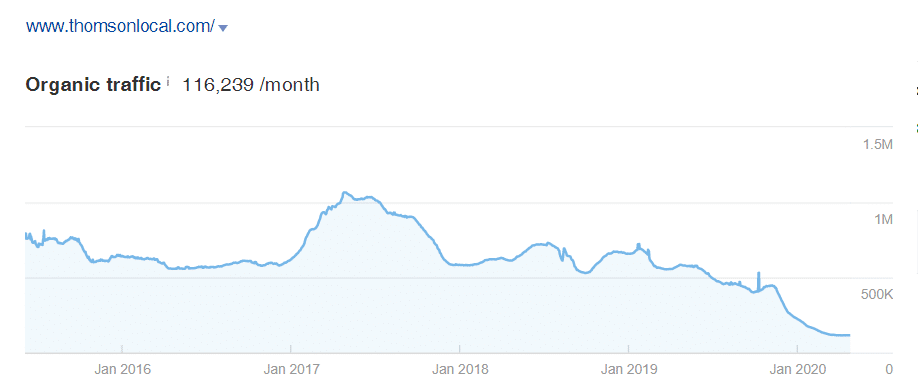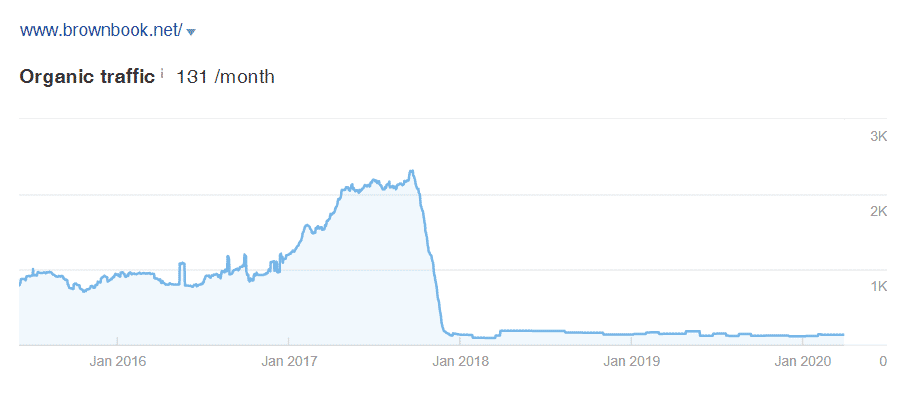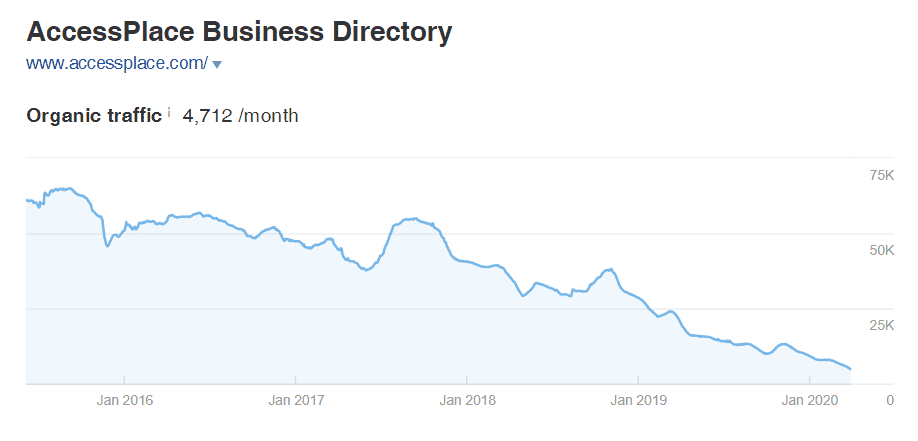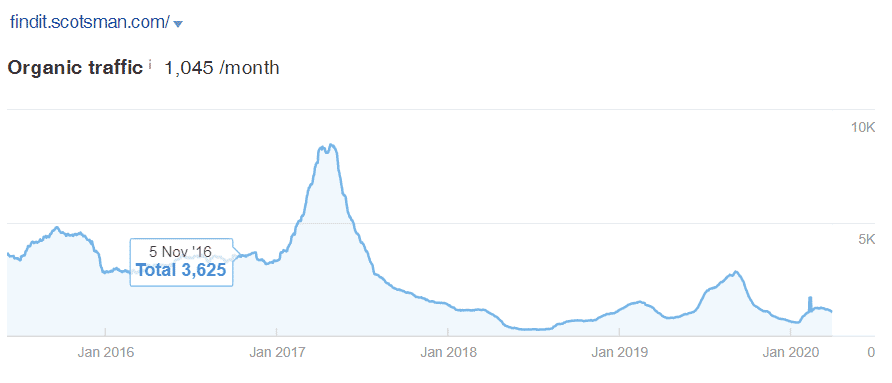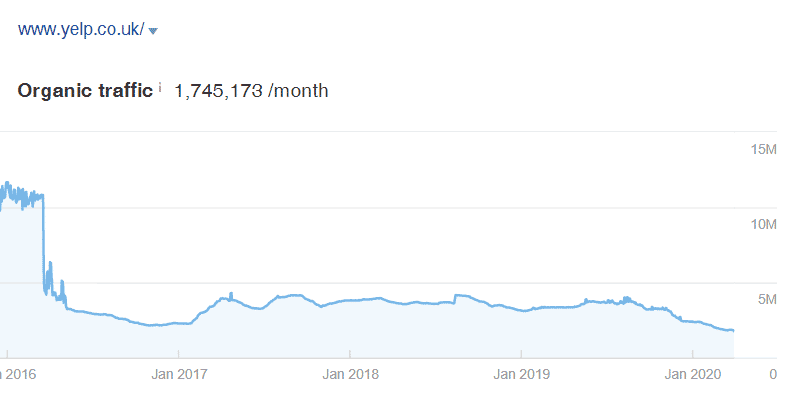 Conclusion
There may be some benefit in having your site listed in a directory that is used and frequented by your prospective customers. There may even be some potential benefit from a backlink on a highly reputable or industry-relevant directory. For example, a dental practice with a link from the members' section of the British Dental Association might, possibly, be regarded as some measure of authority by Google.
However, to make a factual claim that listing your business in general business directories will improve your site's Google ranking is, at worst, misleading and, at best, woefully naïve.
Those businesses making this claim are likely to be in breach of the Advertising Standards Code which requires all marketing claims on a website to be "honest and truthful". Claims used in advertising must be based on provable facts, not opinions.
Unless you are a business with a large number of retail locations that requires time and effort to maintain and update, you do not need to pay for any third-party services to either create or maintain your online profile.
Register your business with Google My Business, list your website in a professional directory that represents your industry and only those directories used by the people you would like to become your customers.
Please don't waste your money on bogus directory listing services making snake-oil claims.